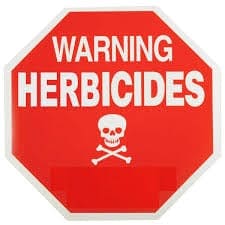 Glyphosate is an herbicide and crop desiccant. It is applied to the leaves of plants to kill both broadleaf plants and grasses.
Worldwide, more than 9 million tons of the chemical glyphosate have been sprayed onto fields.
Farmers quickly adopted glyphosate, especially after Monsanto introduced glyphosate-resistant Roundup Ready crops, enabling farmers to kill weeds without killing their crops.
Recently, Monsanto was found guilty of malice and of covering the fact that their flagship product can cause cancer. This is quite alarming considering it is has been used so widely and since the mid 1970's.
Attached to this blog, you will find a link to an article that contains more information on the carcinogen glyphosate and also a very long list of foods that have tested positive for glyphosate. It's a long list and most likely you may have some of these products in your pantry.