Orchard Health Foods
Your Collingwood Health Food and Supplements Store
Our doors are open
To ensure that we operate as safely as possible, we follow provincial guidelines for access and physical distancing.
Face masks required
The local heath unit has mandated the use of masks in public spaces. We thank you for your co-operation in this regard.
And remember, we are here for you. If you need advice or a recommendation on product selection, please reach out.
Thank you for your continued support. Together we will get through this.
Orchard Health Foods has proudly serviced the Georgian Triangle area for nearly two decades. Located in Collingwood's Cranberry Mews Plaza, we are your one-stop shopping destination for healthy foods, nutritional supplements and vitamins. Our focus is to source high quality Canadian supplements and locally produced organic and vegan foods.
At Orchard Health Foods, "Your Health is Our Concern" and we consider it a privilege to be a central part of your health support team. We strive to deliver an exceptional customer experience centred on sound advice. Our knowledgeable and friendly staff will help you make choices that align with your goals.
To customers who are able to visit our store, we hope that you find it warm and inviting. For those who are unable to come to the store, you will find our most popular items listed on this e-commerce site. If you are looking for a specific product not listed here, please reach out to us. We will do our best to source it for you or suggest a suitable alternative.
"Your Health Is Our Concern"
Movember – Men's Health Awareness Month
In November we turn our efforts to men: With 60 men dying from suicide every hour of every day, there's no time to stand still.
So this Movember, I (Anthony Traversa) am putting one foot in front of the other to change it.
Will you help me? Donate, and you can help me fund ground-breaking projects in mental health and suicide prevention. Please give generously when you find yourself in the store or go to this link:
Dr. Rehan Lakhani, ND – How to deal with Stress, Anxiety and Burnout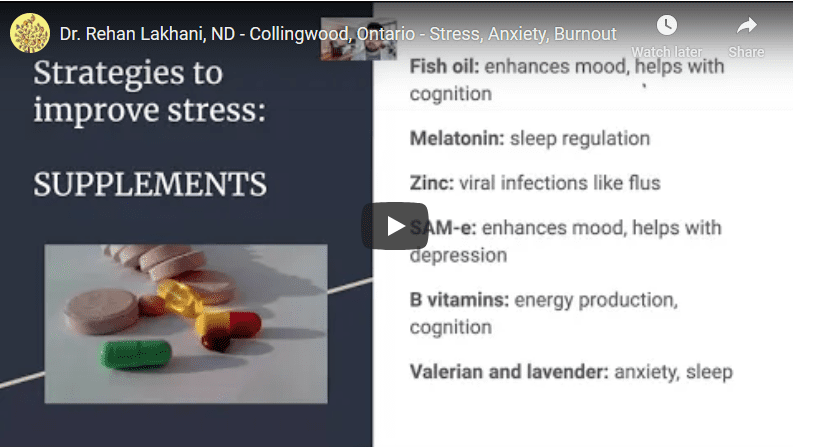 Earn Loyalty Points for every dollar you spend. Redeem your points for discounts on purchases. The more you spend, the more you save. Sign up and get your first 25 points FREE!
You now have three options for shopping our store. You can call us at 705-293-4040, order online or come in! We also offer Curbside Pick-up and local Delivery services.
Thursdays are Senior's Days
Thursdays are Senior's Days at Orchard Health Foods. Our friends 60+ enjoy a 10% discount on all regular priced in-store purchases. Some conditions apply.
Health Food and Nutritional Supplements
Delivery Service
We offer local delivery through a Collingwood based courier service.
Delivery charges are as follows:
Within Collingwood town limits = $7 + HST
Blue Mountain Village and local ski clubs = $15 + HST
Thornbury, Clarksburg, Wasaga Beach and Stayner = $25 + HST
Each year, more than 1.3 million men are diagnosed with prostate cancer worldwide. It is important to know the facts about prostate cancer and to act early when there are signs.
read more
Email Us
Please send an email to customerservice@orchardhf.com or simply fill out the form below. We will get back to you as quickly as possible.