With the latest lockdown now in effect, you may be wondering if it effects our business.  We remain OPEN for business! You can come in and shop in person, order online or by phone. We also offer curbside pickup and local delivery. Choose the option that best suits you! For more details, please visit our website www.orchardhealthfoods.com .
April comes from the Latin word, aperio, "to open" (bud), because plants begin to grow during this month. We are excited to announce the "opening" of the Orchard Courtyard, a quaint little seating area tucked into the space in front of our store. It's a great place for you to enjoy your favourite beverage or relax after doing some shopping in the Mews. The Orchard Courtyard will open as soon as the current restrictions are lifted.
Thursdays are Senior's Days at Orchard Health Foods. Our friends 60+ enjoy a 10% discount on all regular priced merchandise.
Orchard Rewards are a Huge Success! Customers are enjoying the benefits of Orchard Rewards every day! Earn Orchard loyalty points for every dollar you spend. Redeem your points for discounts on purchases. The more you spend, the more you save.
The ALIVE Book Promo is Back!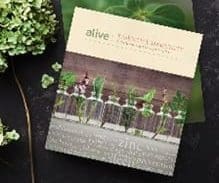 GREAT NEWS! Last month, we ran a special offer for customers who purchased more than $100 in product. They received a FREE copy of Alive Academy's latest book "Essential Immunity". It is a must read for those interested in learning how to boost their immune system in a natural health-inspired way. Demand for the books was so great that we decided to extend the promotion for the month of April. Quantities are limited, so hurry in!
Help Us Support Vitamin Angels!
Orchard Health Foods is a proud supporter of the 2021 Vitamin Angels program. Vitamin Angels is a non-profit organization that provides life-saving vitamins to mothers and children under five at risk of malnutrition—reducing preventable illness, blindness, and death. Annually, Vitamin Angels reaches approximately 70 million children and mothers in 70 countries around the world.
We have partnered with NOW brand supplements to make a donation for each sale related to their very popular vitamin D product. As an added benefit to our customers and to promote the cause, we are reducing our price for this product by $2.
For more information on Vitamin Angels or to make a donation, please visit their website https://www.vitaminangels.org .
April is an important month. Why you ask? Keep these things in mind.
We continue to be the most fortunate business in Collingwood! Thank you for your patronage and support. Best wishes from all of us here!
The Orchard Health Team