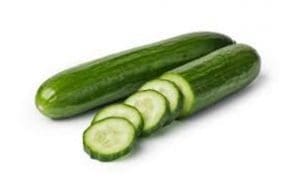 This is the second of a 4-part series on superfoods that are not well known to many people.
When we think of cucumbers most of us envision a tossed salad with leafy greens, fresh tomatoes and other garnishes, and topped with light vinaigrette dressing. As tasty as this may sound, cucumbers serve a great purpose that goes far beyond filling our bellies.
It is said that cucumbers have a fountain-of-youth effect on our bodies as they can provide us with hydration at a very deep cellular level. They are effective in cooling and rejuvenating a hot, stagnant liver. In fact, when eaten daily cucumbers can help reverse liver damage by helping to remove harmful toxins from the body.
Cucumbers have many other benefits as well. They are high in nutritional value containing vitamins A and C, and enzymes that aid in the digestion of protein allowing you to get the most out of everything you eat.   
Did you know that cucumbers are not a vegetable, but rather a fruit? Interested in cooking with cucumber? Check out this link for 33 great recipes for dishes that aren't salads! https://www.self.com/gallery/how-to-cook-with-cucumbers
​