What's Happening at Orchard Health Foods?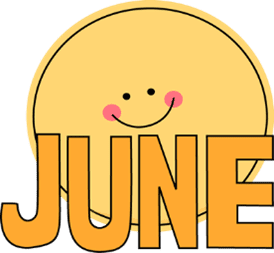 June is finally here with its bright sunshine and long warm days. Ontario is starting the slow process of reopening and the experts are telling us that the worst of the pandemic is behind us. It will be wonderful to get back to doing things that feel normal again.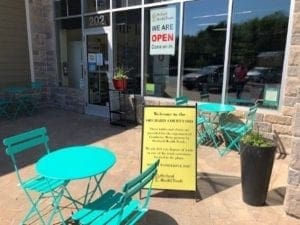 The Orchard Courtyard Patio is now OPEN!
Following a false start in April, we are excited to announce the "opening" of the Orchard Courtyard Patio, a quaint little seating area tucked into the space in front of our store. It's a great place for you to enjoy your favourite beverage or relax after doing some shopping in the Mews.
And the winners are …
Five patrons who purchased Flora Health products in May won a FREE 941ml bottle of Flor-Essence. Flor-Essence is a gentle but highly effective herbal cleanse remedy. Congratulations to our Flora promotion winners Patti Naylor, Kelly Behan, Jane Schurr, Rhian Grundy Evans, and Donna Reel.
Marsh Street Centre Online Auction

Last month we supported The Marsh Street Centre by making a donation to their online auction. The auction was a success and raised nearly $5,000, which will be used to complete the centre's patio renovation.
We would like to thank Charlotte Holmes of Thornbury, who bid on our wellness basket and in doing so, also made a generous contribution to the Marsh Street Centre.
In addition, a big thank you goes out to Orchard customers Linda and Rob Potter who purchased a Gift Card and donated it to the Marsh Street Centre for auction. Janet Volasko was successful in her bid for the Gift Card. Thank you to Janet as well.
Thursdays are Senior's Days at Orchard Health Foods. Our friends 60+ enjoy a 10% discount on all regular-priced merchandise.
Orchard Rewards are a Huge Success! Customers are enjoying the benefits of Orchard Rewards every day! Earn Orchard loyalty points for every dollar you spend. Redeem your points for discounts on purchases. The more you spend, the more you save.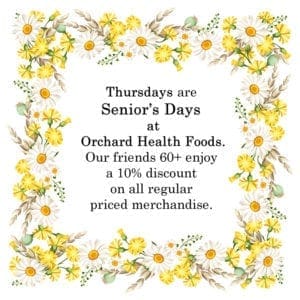 June is an important month. Why do you ask? Keep these things in mind.
• Canadian Men's Health Month
• June is Thyroid Month in Canada
• World Environment Day – June 5*
• National Health and Fitness Day – June 5
• National Spinal Cerebrospinal Fluid (CSF) Leak Awareness Week – June 6 to 13
• Meditation national day – June 9
• World Elder Abuse Awareness Day – June 15*
• World Sickle Cell Day – June 19*
• International Day Against Drug Abuse and Illicit Trafficking – June 26*
• National Cancer Wellness Awareness Day – June 26
• PTSD Awareness Day – June 27*
• Brain Injury Awareness Month – June 29*
• World Scleroderma Day – June 29*
It's been a challenging time for all of us. We couldn't have made it through without your support. Thank you Collingwood!
The Orchard Health Team