What's Happening at Orchard Health Foods?
May is named after the Greek goddess Maia who looked after plants. The month is also known for love and success. Bring it ON!
We are OPEN for business and have tried to make your shopping experience as safe and convenient as possible, during this latest "stay at home" order. You can come in and shop in person. You can also order online or by phone for curbside pickup or local delivery. For a limited time, EARN TRIPLE REWARD POINTS for all curbside pickup orders. Also, for a limited time, get FREE local delivery for ALL orders of $50 or more (similar discounts apply to outlying areas). For more details, please visit our website www.orchardhealthfoods.com .
Thursdays are Senior's Days
Thursdays are Senior's Days at Orchard Health Foods. Our friends 60+ enjoy a 10% discount on all regular-priced merchandise.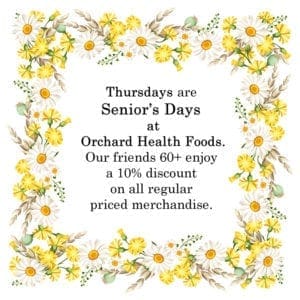 Orchard Rewards are a Huge Success!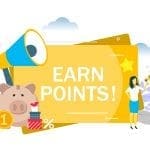 Customers are enjoying the benefits of Orchard Rewards every day! Earn Orchard loyalty points for every dollar you spend. Redeem your points for discounts on purchases. The more you spend, the more you save.
May is Fairtrade Month
May is international fair trade month. Fair Trade simply defined is trade in which fair prices are paid to producers in developing countries. The goal of fair trade practises is to reduce poverty, provide for the ethical treatment of workers and farmers, and promote environmentally sustainable practices.
At Orchard Health Foods, we choose fair trade products when possible and practical. You will find many fair trade products in our store.
Clarksburg's Marsh Street Centre Needs YOUR Support


This month we are supporting one of the area's most beautiful arts and culture venues, The Marsh Street Centre. "The Marsh" is hosting an online auction to raise desperately needed funds to complete their patio project.
Orchard Health Foods, has donated this "Health and Wellness Basket", consisting of: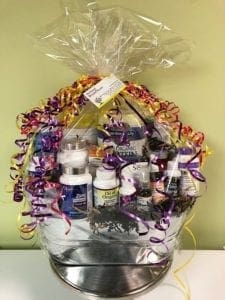 Garden of Life Raw Vanilla Protein (620g)
Natural Calm Unflavoured Powder (226g)
CanPrev Collagen Beauty Powder (300g)
Prairie Naturals 1;1 Bone Solution (500ml)
CanPrev Vitamin C 100mg (240 caps)
Now Amino Acid Complex (120 caps)
Sisu Integris Probiotic 30 Billion (30 caps)
CanPrev Immuno Multi (90 caps)
Can Prev Zinc Immuno (120 caps)
Preferred Nutrition Stress B (60 caps)
Francis Stop It Cold (30ml)
Francis Respira Cleanse (50ml)
Natural Factors Oil of Oregano (30 soft gels)
Natural Factors Echinacea Golden Seal Tincture (50ml)
Sample Vitamin C, Magnesium and Zinc from Naka and Sisu
+ a FREE consultation with Orchard Holistic Nutritionist, Tiffany Sale  
Value Exceeds $500
To view all of the online auction items, go to www.marshstreetcentre.com . You can also donate to the Marsh by going to Marsh website.

May is an important month. Why you ask? Keep these things in mind.
We continue to be the most fortunate business in Collingwood! Thank you for your patronage and support. Best wishes from all of us here!
The Orchard Health Team